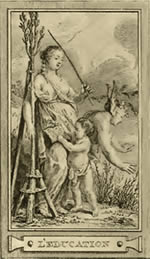 M. M. Gravelot
Iconologie par Figures
Paris, Le Pan 1791
Education and teaching naturally complement the concerts and research of Andrea Massimo Grassi. In fact, his passion for sharing knowledge — be it playing in a concert hall or approaching a musical subject — is the same passion that inspires his work while teaching in a lecture hall or an academy and that has driven him to enjoy years of teaching and coordinating training courses in the field of music.
The majority of educational and teaching activities are carried out by Andrea Massimo Grassi at the Accademia Teatro alla Scala.
Andrea Massimo Grassi has been invited to lecture, give master classes and seminar-concerts at such institutions as the University of Chicago, the University of Leeds, the Northeastern Illinois University, the Southeast Missouri State University, the Facoltà di Musicologia of Cremona (Università degli Studi of Pavia), the Gnessins State Musical College of Moscow, the Department of Music of Minnesota State University (Moorhead, USA), the Zürcher Hochschule der Künste, the National Serbian Clarinet Association, the Università degli Studi of Milan, Catania, Salerno, Padova, Chieti, Bologna, and the Conservatorio 'G. Verdi' of Milano, 'N. Rota' of Monopoli (Bari), 'B. Maderna' of Cesena, 'F.A. Bonporti' of Trento, 'G.B. Martini' of Bologna, C. Monteverdi' of Bolzano, 'D. Cimarosa' of Avellino, 'F. Venezze' of Rovigo, 'A. Pedrollo' of Vicenza, 'G. Nicolini' of Piacenza, Istituto Musicale Pareggiato della Valle d'Aosta - Conservatoire de la Vallée d'Aoste, 'G. Verdi' of Como, 'A. Boito' of Parma, 'Vecchi-Tonelli' ofModena, 'N. Piccinni' of Bari.